Biogen Inc (NASDAQ: BIIB) is sliding more than 8 percent in a sympathy move after Eli Lilly and Co (NYSE: LLY) announced its Alzheimer's disease treatment candidate solanezumab didn't meet the primary endpoint in a late-stage clinical trial dubbed EXPEDITION3.
Elaborating on the results, the company said solanezumab didn't experience a statistically significant slowing in cognitive decline compared to patients treated with placebo. The company said it won't proceed with regulatory filing for solanezumab for treating mild dementia due to Alzheimer's disease despite no new safety signals identified.
The news also meant disaster for Biogen, which is testing its own Alzheimer's drug. In early September, the company announced its investigational therapy for early state Alzheimer's disease, named aducanumab was accorded fast track designation by the FDA. This therapy acts by aiding clearance of the beta amyloid plaques from the brain, which is main cause for the disorder.
In a tweet, TheStreet's Adam Feuerstein said, "Worst thing: $LLY gamed sola study to win but still failed badly, which tells you these amyloid mAbs are weak drugs. Watch out, $BIIB."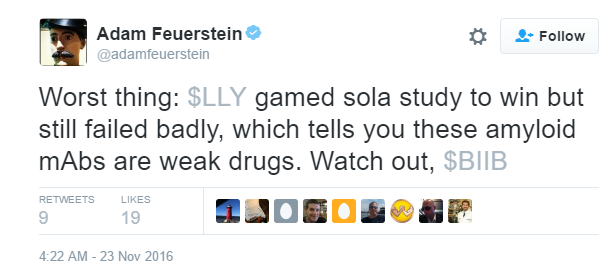 Eli Lilly was down 13.28 percent to $65.81, while Biogen was slumping 8.86 percent to $289.94 in pre-market hours.
© 2016 Benzinga.com. Benzinga does not provide investment advice. All rights reserved.
Article Source: http://www.benzinga.com/general/biotech/16/11/8733840/eli-lillys-solanezumab-failure-is-bad-news-for-biogen?utm_campaign=partner_feed&utm_source=stateofthemarkets&utm_medium=partner_feed&utm_content=site