Biotech stocks are seeking to regain some semblance of normalcy after Wednesday's Trump-inspired selloff. Much against market perceptions of a biotech-friendly President-elect Donald Trump stance, he hit out at the sector, with a vague message that suggested he is going to clamp down on drug prices.
Biotech investors hardly expected such as statement from a person they believed to be sector-friendly, given his earlier neutral stance as opposed to Hillary Clinton, who had made the fight against price gouging as a major election theme. So, it took them by surprise and a selloff promptly followed on Wednesday. The weakness was so stark that it made CNBC's Brian Sullivan tweet that biotechs/healthcare was the only sector to have been left out of what seemed to be a market-wide rally on Wednesday.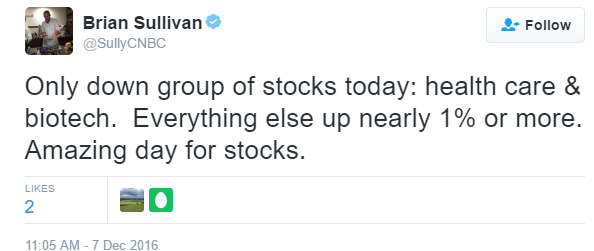 Putting Things In Perspective
iShares NASDAQ Biotechnology Index (ETF) (NASDAQ: IBB) gained 12 percent from its pre-election level to 291.33 on November 14 but has been giving back ground since then. On Wednesday, the ETF fell 2.94 percent despite the Dow Jones Industrial Average (INDEXDJX:.DJI) and the S&P 500 (INDEXSP:.INX) hitting new closing highs.
The NYSE ARCA BIOTECH INDEX (INDEXNYSEGIS:BTK), which had a 5.4 per gain thus far and a peak gain percentage of roughly 14 percent post the elections, lost a steeper 3.01 percent.
The SPDR S&P Pharmaceuticals (ETF) (NYSE: XPH) was off 2 percent at 38.54 Wednesday following a pre-election peak of 42.05 on November 14.
Weird Wednesday For Biotech Stocks
At Last Check
Celgene was down 0.28 percent at $112.34.
IBB was down 0.86 percent at $263.98.
Illumina was down 0.44 percent at $121.48.
Mylan was down 0.32 percent at $34.61.
Regeneron was up 0.7 percent at $364.55.
SPDR S&P Biotech (ETF) (NYSE: XBI) was down 1.33 percent at $60.97.
Vertex Pharma was down 0.29 percent at $74.10.
XPH was down 2.05 percent at $37.75.
Image Credit: By Gage Skidmore from Peoria, AZ, United States of America (Donald Trump) [CC BY-SA 2.0], via Wikimedia Commons
© 2016 Benzinga.com. Benzinga does not provide investment advice. All rights reserved.
Article Source: http://www.benzinga.com/general/biotech/16/12/8786022/biotech-stocks-convalescing-after-wednesdays-trump-inspired-biotech-se?utm_campaign=partner_feed&utm_source=stateofthemarkets&utm_medium=partner_feed&utm_content=site